Diese Veranstaltung hat bereits stattgefunden.
Vortrag am 02. Juni 2022, 12.30 Uhr CET: "Harvesting State Support – Institutional Change and Local Agency in Japanese Agriculture" (Hanno Jentzsch)
2. Juni 2022 @ 12:30

-

14:00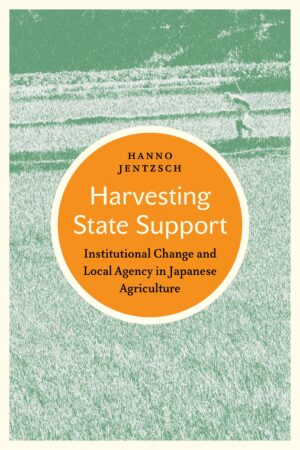 Agriculture has been among the toughest political battlegrounds in postwar Japan and represents an ideal case study in institutional stability and change. Inefficient land use and a rapidly aging workforce have long been undermining the economic viability of the agricultural sector. Yet vested interests in the small-scale, part-time agricultural production structure have obstructed major reforms. Change has instead occurred in more subtle ways. Since the mid-1990s, a gradual reform process has dismantled some of the core pillars of the postwar agricultural support and protection regime. Harvesting State Support analyzes this process by shifting the analytical focus to the local level.
Drawing on extensive qualitative field research, Hanno Jentzsch investigates how local actors, including farmers, local governments, and local agricultural cooperatives, have translated abstract policies into local practice. The analysis shows how local variants are constructed through recombining national reforms with the local informal institutional environment, and also reveals new links between agricultural reform and other shifts in Japan's political economy, including decentralization and municipal restructuring.
Dr. Hanno Jentzsch is an Assistant Professor at the Department of East Asian Studies, University of Vienna. As a political scientist specializing on Japan, he works on decentralization and local governance, the political economy of "rural revitalization", social welfare, redistribution, and the role of informal institutions in processes of institutional change. His first monograph Harvesting State Support (University of Toronto Press) was published in 2021. Together with Sonja Ganseforth, he edited the volume Rethinking Locality in Japan (Routledge, 2022).
Online: The lecture will be conducted via Zoom. To register please follow this URL:
https://lmu-munich.zoom.us/meeting/register/tJ0vf-ihrDIjEtNwkbviMjkJwRYf1GVmfiW7