Yosuke Buchmeier has published an article that analyses the news coverage of Japan's public broadcaster NHK in the face of a looming pandemic. Thereby he finds that the risk of Covid-19 in Tokyo was underreported in the news, a media phenomenon called agenda-cutting. In the light of the run-up to the Tokyo Olympics, this case study demonstrates the conundrum of a semi-independent public media finding itself in a struggle between serving political and business interests, and providing citizens with reliable information about public health risks.
This study was developed during Buchmeier's research stay at the German Institute for Japanese Studies in Tokyo (DIJ Tokyo) in 2020.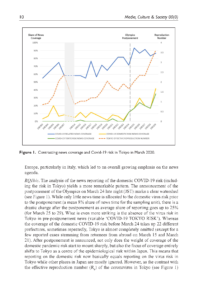 Abbildung. Contrasting news coverage and Covid-19 risk in Tokyo in March 2020.
Buchmeier, Yosuke: Protecting the people, or the Olympics? Agenda-cutting of the COVID-19 risk in the news coverage of Japan's public broadcaster. In: Media, Culture & Society (online since 16 March 2022), DOI: 10.1177/01634437211060236